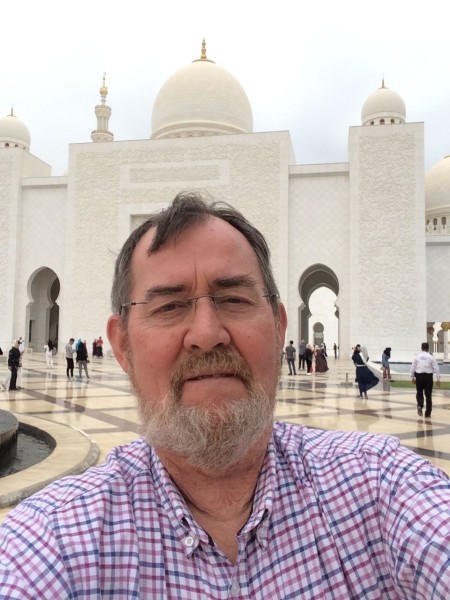 The last five years have been a rollercoaster ride for Ric Myers, after being diagnosed with lung cancer in early 2016.
Despite a number of setbacks on his road to recovery, he is now progressing well and has signed up as a West Yorkshire and Harrogate Cancer Champion, volunteering to use his own experience of cancer care to help others, through a programme of symptom awareness raising and prevention advice.
An infrequent visitor to his GP, Ric acted on signs and symptoms that he felt were unusual for him, and sought advice when he developed what he had initially believed to be a persistent cough and chest infection. He is now backing the national #HelpUsHelpYou campaign to encourage more people to do the same.
Ric had been a smoker for many years and had tried a number of times to quit the habit, before succeeding almost three years earlier, with the help of his local smoking cessation service.
"I've never been one for visiting the doctor, and particularly with something that might be a viral infection for which antibiotics aren't prescribed anyway," he said. "I'd always had what I called a smoker's cough, but this time, something in me told me I needed to get it checked out, I noticed that it was different this time."
Complex Road To Recovery
Ric was prescribed steroids, an inhaler to loosen his chest and enable the infection to clear, and was also referred to Harrogate Hospital that afternoon for a chest x-ray. He received a telephone call an hour later and was advised that his chest congestion was such that antibiotics were needed after all.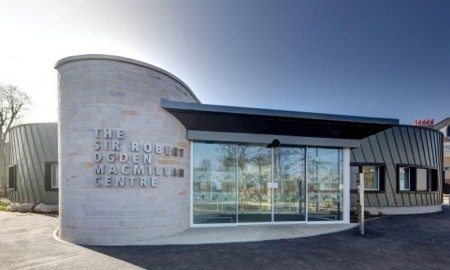 Ric was told to take the full course and wait two weeks before being referred back for a second chest X-ray, after which he was called back to the GP surgery and told that something abnormal could be seen on the film. An appointment had also been made for Ric at the Macmillan Robert Ogden Centre in Harrogate, pictured here.
"The doctor told me there was something there, possibly cancer, and the impact of that word really is what people say it is. You automatically assume the worse," said Ric. "I was told not to look on the internet but, of course, you do and that can make things worse."
Following CT and PET scans, and a needle biopsy, Ric was told he had a tumour the size of a cherry tomato and underwent a keyhole lobectomy of his right lung. It was found to be stage 1 lung cancer.
The operation went well but Ric's road to recovery has been a complex one.
He was in intensive care for five days after he developed an allergic reaction to the morphine post surgery. Then he experienced serious problems during the chemotherapy which followed his operation in September 2016 and he developed sepsis which required further hospitalisation.
However, his recovery continued and after clear scans in January, June and December 2017, Ric was declared cancer free. But in 2018, as Ric and his wife planned a trip to visit their son in Dubai, a further CT scan showed two small lesions on his left lung.
"We really didn't want to have to postpone the trip, he said. "Thankfully I was told that as the tumours were small and slow growing, it would be fine to defer the treatment to when we returned."
NICE – the National Institute for Health and Clinical Excellence - had recently approved combined immunotherapy and chemotherapy, and Ric was the first to receive it at the Macmillan Robert Ogden Centre when he returned from his trip in May 2019. However, his treatment regime had to be amended again when it was found that his body was unable to tolerate the chemotherapy, and he was treated purely with immunotherapy.
Yet another complication came in early summer last year, after Ric had been shielding for several months due to Covid, and he required surgery to remove gall stones, again having to contend with the complications of sepsis.
May 2023 brought the seventh anniversary of his surgery. Ric has continued to improve and with the help of the gentle exercise he is still able to perform within the restrictions of his chronic obstructive pulmonary disease (COPD), following a career in the welding and engineering industry.
Ric found the personal support provided by Macmillan at the Robert Ogden Centre a tremendous help throughout his cancer journey. "I cannot sing the praises highly enough of the people at the centre, from those who support you in the treatment room, to the people who administer the therapy, to the people who greet you when you arrive."
He went on to be involved in the set up a lung cancer support group, with the help of his Cancer Nurse Specialists. Prior to Covid restrictions, the group met a number of times at the Yorkshire Cancer Research offices in Harrogate.
"I found it really useful because it helps you to realise that there are lots of people on the same journey," said Ric. "We're hoping to restart when Covid restrictions allow. I feel that the support role is very much about face to face, mixing, mingling, having a coffee in a relaxed atmosphere where we can share our mix of experiences.
"I feel really great," said Ric. "Unfortunately, many people don't find out they have lung cancer until much further downtrack than I did. I consider myself very lucky to have received an early diagnosis. I'm so glad I sought advice when I did."
---
More information
Lung cancer is when abnormal cells divide in an uncontrolled way to form a tumour in the lung. The main symptoms are a cough, breathlessness and weight loss. The treatment you need depends on what type you have as well as your general health. Treatments include surgery, chemotherapy and radiotherapy.
Read all about lung cancer, signs and symptoms and treatment on the Cancer Research UK website.
View the 30 second television ad supporting the #HelpUsHelpYou lung cancer campaign launched in February 2021.
The Roy Castle Lung Cancer Foundation is the only UK lung cancer charity dedicated to helping everyone affected by the disease.
Since 1990, when the charity was set up by Professor Ray Donnelly, the charity has funded millions of pounds of essential lung cancer research, looking for ways to detect the disease as early as possible and save lives.
Thje Foundation supports everyone affected by lung cancer – from diagnosis, through treatment, living with the disease and end of life care. We raise awareness, prevent future generations from getting it and challenge the misconceptions of lung cancer. We do all this so those diagnosed can live well with lung cancer for as long as possible.
Stopping smoking is one of the best things for your health.
Quitting gives lungs the chance to repair and lets you breathe easier. Lots of other benefits too start almost immediately.
It's never too late to quit.
Advice and apps to help you quit smoking and information about stop smoking services in your area on the NHS website.
With Yorkshire Smokefree you can access advisors for additional advice and support if you need it.