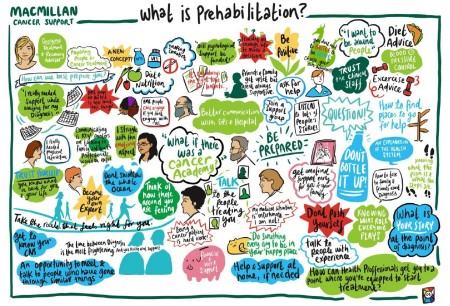 Why prehabilitation and rehabilitation?
Recent studies have shown that prehabilitation and rehabilitation can be very important for cancer patients.
Findings suggest that by increasing physical activity prior to treatment or surgery, recovery times are improved, the risk of complications are shown to be lower and there's a reduced length of stay in hospital. These implemented changes also promote healthier lifestyle choices, which leads to enhanced physical & mental health and wellbeing.
Learn more about prehabilitation on the Calderdale and Huddersfield NHS Trust website. You can also view prehabilitation videos that you may find helpful.
Case study: Active Against Cancer
The evidence for the benefits of exercise in patients living with cancer is now well-established.
Active Against Cancer is a new and unique health and wellbeing service delivered by Harrogate and District NHS Foundation Trust. Find out more and access online resources by visiting the Active Against Cancer website.
It provides bespoke, individualised activity programmes, free to all cancer patients, no matter their diagnosis or current fitness level. The service offers prehabilitation, in-treatment exercise and rehabilitation delivered by oncology physiotherapists and cancer specialist physical trainers from its picturesque base at Harrogate Sports and Fitness Centre.
Follow Active Against Cancer on social media:
Twitter @AAC_Harrogate Facebook @ActiveAgainstCancerHarrogate
Case Study: First Steps Cancer Programme
The First Steps Cancer Programme at Calderdale and Huddersfield NHS Foundation Trust is for patients and their families who are dealing with a recent cancer diagnosis.
The service was set up in October 2019 response to feedback from patients, who said they would value more support at the beginning of their cancer journey.
It's an information and support session that is designed to help patients help themselves.
Read about First Steps, watch the video and listen to patient feedback on the Calderdale and Huddersfield website.