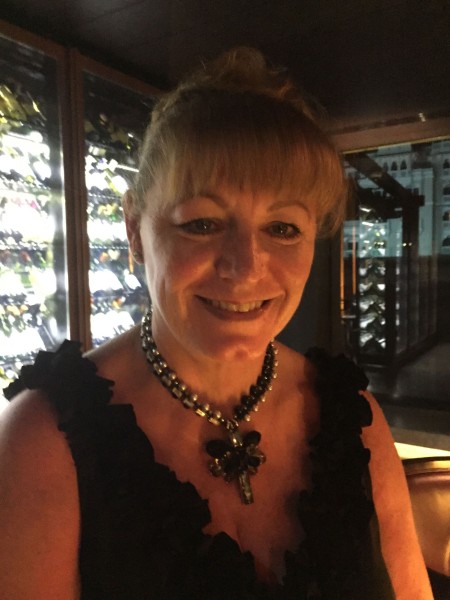 At the end of January 2014, Anne Clarke finally plucked up the courage to visit her GP after experiencing a number of bowel-related symptoms from the previous November. In the middle of that year, she underwent major surgery for aggressive advanced bowel cancer, is now continuing her recovery and shares her experiences to help others facing the same challenges.
Anne (pictured right) – a member of the West Yorkshire and Harrogate Cancer Alliance community/patient panel - is now backing the national Help Us Help You campaign to encourage people to seek advice from their GP as soon as possible if they have concerns about signs and symptoms of potential cancer.
Anne, who lives in Coniston Cold near Gargrave, had suffered from constipation from being a teenager. This gradually became worse after the birth of children and at first she dismissed the early signs of her illness as more of the same.
A former bank manager leading a team of mortgage and financial advisers, Anne was was a busy mother of two teenage boys, managing a home, caring for her family and supporting her husband Chris, who ran his own business.
Then she discovered blood in her stools on a number of occasions, and a change in the consistency of her poo. Finally, in January 2014, Anne, who was 51 at the time, decided to consult her GP and things moved on swiftly from there.
"My doctor was fabulous and took very swift action," she said. "I saw her on Thursday afternoon, I was sent to Airedale Hospital for blood tests and by Friday they were calling me from the Colonoscopy Unit, encouraging me to attend as soon as possible. I then had MRI and CT scans within the space of a week."
Anne was diagnosed with an advanced highly recurrent rectal cancer – a 6cm tumour which was too low to resect (cut out). She underwent a procedure known as a 'full extralevator abdominal perineal invasion' – major life-changing surgery which involves the removal of a bigger margin around the cancer and which would leave Anne with a permanent stoma.
Five weeks of radiotherapy and chemotherapy to shrink the tumour was followed by a period of 12 weeks prior to the extensive and complex surgery, which needed to be done at Bradford Royal Infirmary. This was followed by major reconstructive surgery and a further period of chemotherapy from the end of August to Christmas 2014.
Then began the road to recovery and the need to adopt a slower pace of life than she had perhaps been used to.
"You have to learn to be kind to yourself, not to push yourself to the limit, to pace yourself, and learn to do things more slowly and gradually," said Anne. "If you are having a day where you want to do nothing, you have to give your permission to do just that."
By 2017, Anne was well into her recuperation, with six monthly check-ups and annual scans, but there were more complications. An attempted colonoscopy through the stoma site proved impossible due to excessive scar tissue, and further surgery was required to remove a twisted section of colon. Post surgery, Anne developed a hernia, which further set back her road to recovery.
Awkwardness Can Be A Factor
She is now doing well and an active member of the Cancer Alliance community/patient panel. Looking back at the timeline of her cancer journey, Anne is keen to convey the importance of seeking urgent medical advice.
"With an earlier diagnosis, it may have been that I would have required just the removal of a polyp, rather than it having progressed to cancer. With hindsight, I should have acted sooner," said Anne.
"In my heart of hearts, I knew that something wasn't right. If you feel in the pit of your stomach that there is something wrong, then act on that. Don't ignore what your body is telling you."
Awkwardness can also be a factor which prevents people coming forward – particularly when diagnostic tests and treatment involves parts of the body considered intimate or embarrassment.
"It's important to remember that all the staff who are involved in your care will be health professionals who are experienced in your particular illness and who will put you at your ease," says Anne. "I have a real phobia about doctors but ultimately I knew that I needed to overcome that and get checked out."
The thought of coping with such a significant change in her body also proved to be a significant barrier for Anne, who at one stage almost didn't go ahead with the surgery because, in her own words, she "couldn't envisage a future with a stoma".
"It's so important to develop a strong mental attitude, and to talk to people about your concerns and your fears, rather than keeping them to yourself. I believe that really is the best thing," said Anne.
"Even during the pandemic, the NHS is there to help. In most cases, concerning symptoms won't be cancer, but the earlier the diagnosis, the more likely the cancer is to be treatable. Don't hesitate to seek help."
Last month (February 2021), Anne was confirmed cancer free and discharged from treatment.