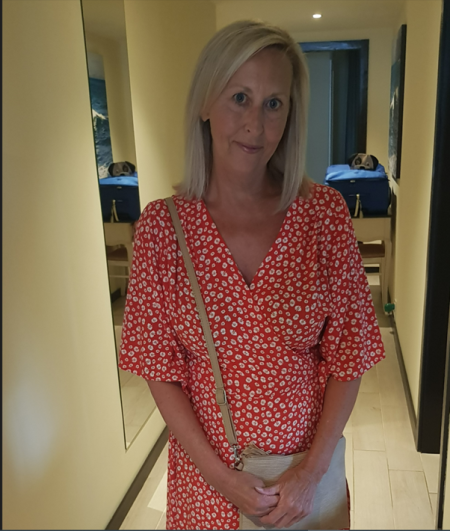 That's the advice of Bradford woman Maxine Johnson, who recently received successful treatment for early stage cancer after taking up the invitation she received to attend for a lung health check.
Maxine, 60, was contacted through her GP practice by the national targeted lung health check programme – a screening programme for people aged between 55 and 75 who have ever smoked – and is now encouraging others who are eligible to take up the potentially life-saving offer.
She is now recovering from surgery to remove the lung cancer identified through the low dose CT scan which follows the initial lung health assessment and is on her way back to full fitness, enjoying life with her family.
Maxine, a busy mum-of-one with two young granddaughters, had been a design technology technician at Bradford's Allerton Academy for 16 years and had worked in education for around 30 years. As a smoker, she received a telephone call in the autumn of 2022, advising her that lung checks were being offered in her local area and inviting to take part in an initial assessment.
I felt fine and had no symptoms whatsoever....
"I didn't consider myself a heavy smoker, around 10 cigarettes a day. I felt fine and had no symptoms whatsoever. A bad chest was something I hadn't suffered from," said Maxine. "However, I had no real hesitation in accepting the invite, in the same way I have taken up other screening invitations."
After a few simple questions, Maxine was invited to attend for a CT scan at a mobile unit close to her home in Manningham. She was able to book an 8am appointment, meaning she could attend before work, and the scan took just 10-15 minutes from start to finish.
Her results were shared with her a week later by the lung cancer Clinical Nurse Specialist. The scan had shown an active nodule on her left lung that warranted further investigation and she was referred for a PET scan at the mobile unit sited at Bradford Royal Infirmary.
A biopsy was also carried out at BRI, along with a number of chest x-rays, and Maxine was ultimately diagnosed with stage 1 lung cancer. She underwent surgery at St James' in Leeds on the 28th of November.
"I was up and about the very next day after the surgery, as this is considered the best approach for your lungs," she said. "I did have some minor reaction to the anaesthetic, due to my allergies to codeine and morphine, but I was only in hospital for three nights in total."
Maxine's recovery has continued at home with the support of her family and she takes every opportunity to encourage others to engage with the lung health check programme if they receive an invite – and to give up smoking, even if they are symptom-free.
"I didn't have any symptoms, I didn't think anything at all was wrong, and yet something was happening in my body. I would have carried on smoking, carried on with my life, and it would have carried on growing inside me. It could have been really bad news," she said.
"I completely understand why people are scared, why the fear is there, but catching any cancer earlier can only increase the chances of treatment being successful. I tell all my friends to go along to put their mind at ease – and if there is something wrong, then the earlier it is caught the better.
"Why wouldn't you take the opportunity for the check if it was offered to you? Basically it saved my life."